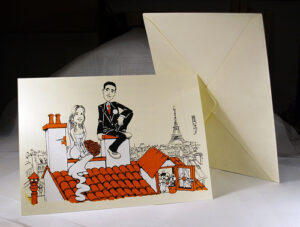 Description
Size: 32cm x 22 cm. Folds as a book to fit the envolope, sized 16 x 22 cm
Paper:Laid cream 220 grams paper
Envelope: High quality cream colored envelope included on the price. Check for different colors.
The card is screen printed on the outside with a half-page design of the groom and bride in 1 to 4 colors. On the inside text with the details of the venue is printed, usually full-page.
Aside the basic cream-coloured envelope, we have plenty of other colors. They add a bit to the final price (around 35 extra euros per 100 envelopes). If you are interested, let us know and we'll give you a quote.
More pictures
[nggallery id=10]