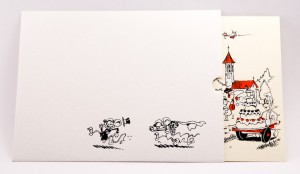 Description
Size: 32cm por 22 cm.
Paper:250g cream embossed paper
Sleeve: 250g white embossed paper with small animals screenprinted on a corner
Envelope: The model includes an envelope with the same characteristics as the basic model, so you can put the sleeve inside.
The sleeve is decorated with small animals dressed on wedding gawns. You can pick from different models of animals. The card goes inside the sleeve and has a caricature of the couple printed on one side in 1 to 4 colors, and the wedding and reception details on the other side.
More pictures
[nggallery id=12]